How to add, edit and delete drop down and multi select options
Accessing Dropdown Options #
Navigate to the Stub (Sub menu item) you wish to manage. (In this example Risk Level)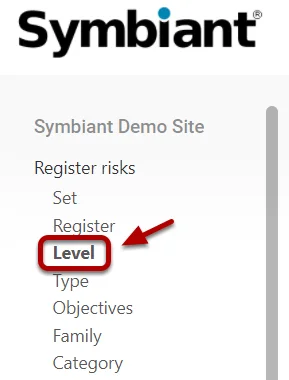 Within a Stub you can; Edit (1), Create (2) and Delete (3).

Editing an Option #
When selecting an option, you can then edit each field as you need. For example editing the colour of this option. Remember to Save once finished.

Option Sort Order #
An options Sort Order (By Default) is the value this option shall appear on any dropdown/list within a form. (I.e. 1,2,3,4)

Adding a New Option #
Add a new Name, Colour and Sort order, then remember to Save.
Note: Adding a new option will make it accessible to any user who has permissions to create/update a record in this particular module.

Deleting an Option (Archiving) #
To delete an option, select the Three Dots at the right side, and select Delete, once confirmed this will delete the option from any records and the ability to add this option to new records.
Note: Options are never truly "Deleted" they are archived, and can be restored, please see: Deleting a Record (Archiving)