When selecting Assignees for an Action in a Record you may notice that not all users, or users you want to add aren't present,

This is because Assignee fields can be limited by a users Division & If they have an Assignable Role
If you believe this is an error please contact your System Administrator.
Limited By Division (Admin Info) #
If you are not seeing a user first ensure they are in the correct division,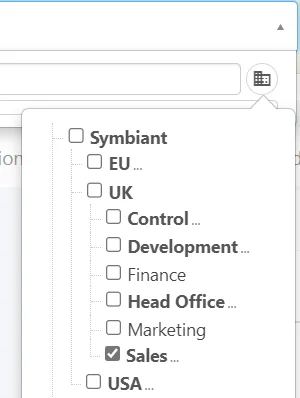 For Example; If your in Symbiant/UK/Sales, you will only be able to see other Users inside Symbiant/UK/Sales.
Either add your user to a higher division such as Symbiant/UK or add those particular users down into Symbiant/UK/Sales.
Limited By Assignable Role(Admin Info) #
If the Assignee Field is limited by Assignee Role, you must ensure users who need to be assigned have ONLY that Role,
For Example; If your in Risk and can't see any users to add as an Assignee, ensure the user has ONLY risk_action_assignee Role
(The below is an example of the action assignee roles across multiple modules)